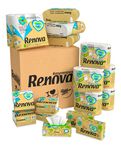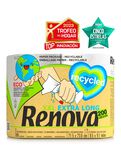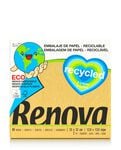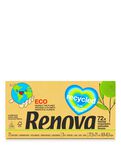 Shipping in 2 business days
Wrapped in paper: simplicity and commitment to the environment. Fulfill all your household needs, while not betraying your conscience. 100% wrapped in paper, 0% plastic. A small step for you, a giant step for future mankind. Renova Recycled is the way to go. Economic and ecological. Pass the word!
This product is made of FSC®-certified and other controlled material. By choosing this product, you are supporting responsible management of the world's forests.
Surprise your family and friends with this exquisite assortment of Renova:
- Recycled Toilet Rolls
- Big size Kitchen Towels
- Paper napkins, extra soft
- Facial tissues

Available while supplies last. Shipping is free for Austria, Belgium, Denmark, France, Germany, Ireland, Italy, Luxembourg, Netherlands, Portugal and Spain.
Wrapped in Paper
EU Ecolabel: PT/004/001
FSC® C136137
Renova Recycled Pack includes:

- 45 white toilet rolls, recycled
- 10 supersized white paper towel rolls, recycled
- 5 packs of white napkins, extra soft, 80 napkins each
- 3 boxes with 72 white facial tissues, recycled
Wrapping: 100% Paper, 0% Plastic