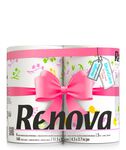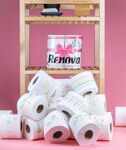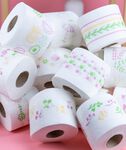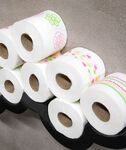 Spring Summer Edition Toilet Paper 4R
Shipping in 2 business days
Inspired by Spring's awakening of colour and life, Renova Design Spring Summer Limited Edition is an openly bucolic line: toilet paper with exclusive, floral and colorful illustrations.
Why choose a white paper or a simple pale color?
- White paper
- 160 sheets per roll
- 18,40 m per roll
- 4 rolls per pack
NOTE: This picture is not contractual. Your rolls could have slightly different illustrations. Let yourself be surprised!
This product is made of FSC®-certified and other controlled material. By choosing this product, you are supporting responsible management of the world's forests.
3-Ply Tissue Paper
Perfume Free
FSC® C136137
Dermatologically tested
Spring Summer Edition Toilet Paper 4R