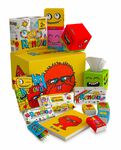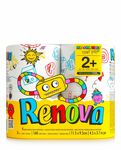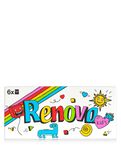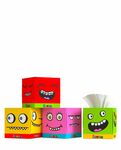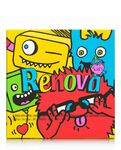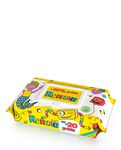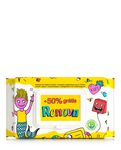 Shipping in 2 business days
The Renova Kids Pack is a true concentrate of fun and joy. In a single pack, you'll find the newest and exclusive complementary products to leave kids (and grown-ups!) thrilled. A unique and unforgettable gift. Fun matter(s)!
For the fun to start right away with unboxing, all the surprises arrive in a FUN-tastic box to keep, illustrated with the new Renova Kids characters.
A range designed for children and all those who can't remain indifferent to fun products. What are you waiting for?

Inside the box you will find:
- Toilet paper
- Handkerchiefs
- Facial tissues
- Napkins
- Moist toilet paper
- Kids notebook with stickers from the Kids' sub-brand
- Kids' Color Pencil Kit
Renova Kids pack includes:

- 4 decorated toilet rolls
- 1 pack of handkerchiefs (6 pocket-packs, 7 tissues each)
- 4 boxes with 50 extra soft white facial tissues each
- 1 pack of 3-ply paper napkins, 20 units
- 1 pack of moist toilet paper, 12 wipes, travel size
- 1 pack of moist toilet paper, 60 wipes, click-clack opening for added durability.
- 1 notebook with stickers from the Kids' sub-brand
- 1 Colored Pencil Kit, 6 pieces