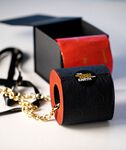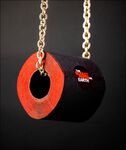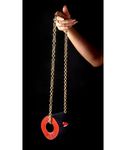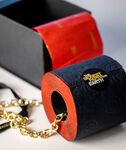 Shipping in 2 business days
Renova's latest fashion obsession: the "Bag"! It's not your ordinary bag - in fact, it's not a bag at all. It´s a stylish roll of toilet paper on a gorgeous golden chain. And we're not talking about any ordinary TP - this is a luxe 4-ply, double-sided rouge & noire roll that'll make all your friends jealous.

Sure, it may not be the most practical bag for carrying your essentials, but who cares when you've got such a unique and daring accessory? It's the perfect size to fit all your party, opera, or city-walking essentials, and it's sure to turn heads wherever you go.

Is it wacky? Is it artistic? Who cares! It's a statement piece that'll have everyone talking. Get ready to be the talk of the town with Renova's toilet paper bag.

Even if you're not ready to make a bold statement with it on the streets, you can still enjoy its unique design and functionality as a regular dispenser in the comfort of your own home. Either way, Renova's toilet paper bag is sure to add a touch of eccentricity and style to your bathroom experience.

And yes, you can use it your portable TP dispenser.
4-Ply Tissue Paper
Lightly Scented